Introduction to Web Scraping for E-Commerce
The growing volume of data online is accelerating business adoption of data-driven decision-making strategies, and it is estimated that data-driven businesses are 19 times more likely to be profitable and 52% better at understanding their customers. The industry based on electronic commerce is not the exception to this phenomenon and its leverage depends to a great extent on technological innovation. This is where Web Scraping plays an essential role in obtaining more and more value from data.
There are currently a wide variety of benefits derived from using web scraping for e-commerce websites. When done correctly, web scraping can help you gather data on your competitors, identify new leads, and find successful products to sell on your website, among other advantages.
Is not an exaggeration to say that web scraping has become one of the technological services that make the fintech and e-commerce industry more profitable. And we can demonstrate why web scraping is helping to generate more income and grow your business or your company. Companies like Amazon, eBay, Best Buy, Alibaba, and Shopify, among others, fully understood these benefits and are increasingly technologically competitive.
Web scraping applied to e-commerce and dynamic pricing
Web scraping is the process of extracting data from websites. This can be done manually or by automated means, such as services or custom solutions. Scraping online data is a great way to collect large amounts of data quickly and easily.
When it comes to eCommerce, web scraping is useful for a variety of purposes. For example, you can use scraping to collect product data, competitor data, pricing information, find new leads, or identify potential vendors, to name a few examples.
Given the variety of existing platforms, one of the main benefits of web scraping in the field of e-commerce is the possibility of analyzing and comparing prices of the competition, in order to set prices dynamically and precisely, which are increasingly more competitive and aligned to promotions or groups of products on sale, or even to launch aggressive advertising strategies based on the price factor.
As dynamic pricing models gain popularity, it is very important that companies to optimize their pricing based on consumer trends and competitive behavior. Tracking eCommerce platforms can help businesses understand the overall value of a product in the marketplace and customize pricing based on a data-driven strategy.
At the same time, web scrapers can be programmed to track data in real-time, so e-commerce platforms can leverage this data to deliver campaigns on products that competitors display at higher prices.
It's not just for pricing. There are many reasons why web scraping is crucial for eCommerce businesses. These are just some of the benefits:
A)   Collect data about your competitors: By scraping your competitor's websites, you can collect data about their products, prices, and marketing strategies. This information benefits you business by helping you develop your own eCommerce business strategy.
B)   Find new leads: Web Scraping can help you find potential customers or vendors that you might not have been able to find otherwise.
C)  Find products to sell: If you're looking for new products to sell on your eCommerce website, web scraping can help you find suppliers and gather product information quickly and easily.
Strategies to boost your e-commerce with web scraping
These trategies will directly benefit your business or digital company, significantly increasing your ROI and bringing new competitive advantages. Your e-commerce store will be enhanced with these strategies.
Price monitoring: It is essential to be aware of what your rivals are doing. Keeping up with how prices are changing and comparing your products to theirs is especially crucial. To monitor how favorably your competitor's services and products compare to yours, you can use web scraping. Are your prices competitive? Are you undercutting your competitors? Are you charging more? Are they lower? Amazon has been dominating the price competition game in the online marketplace, even though it is not always the lowest price competitor but perhaps the most "reasonable" price. Since we have already confirmed that there aren't places that offer us as good a price as Amazon does, we then train ourselves to commit to whatever the deal offers us. What makes us loyal to its price is self-explanatory for most business owners: the constant power of price tracking.
Lead Generation: Many online directories like the Yellow Pages and Yelp have many businesses that are in their target market and are interested in their product or service. Web scraping allows you to obtain valuable information such as company name, contact information, location, and industry to help you build a list of qualified leads faster and easier. You can then use this list to contact qualified leads within any city or country. This is ideal for B2B or lead generation companies. If you want to know more about Automatic Lead Generation and the innovation it adds to your business, we suggest you read our previous post on the subject.
Sentiment Analysis: Identifying customer sentiment is crucial to eCommerce. Web scraping provides e-commerce platforms with data from customer reviews and feedback that can be used to optimize existing products or launch new products tailored based on consumer behavior and requirements. Sentiment analysis can also apply to social media data to answer a wide variety of questions about consumers, brands, products, or any other business-relevant topic. This new way of having direct feedback on a daily basis avoids the need to carry out costly market research.
Product Research: Product research is the process of understanding the products on the market and estimating the success or failure of launching a new product or modifying an existing one in terms of features or pricing. By using web scraping techniques, all kinds of product data can be extracted, including images, descriptions, prices, reviews, etc.
The extracted data is used to identify:

High-demand products (eg clothing, technology, food, etc.)
Useful and meaningful features for users.
Niche ideas in the market (product innovation).
As a Bonus Track, we could mention two additional strategies in which you can be encouraged to innovate and boost your e-commerce business.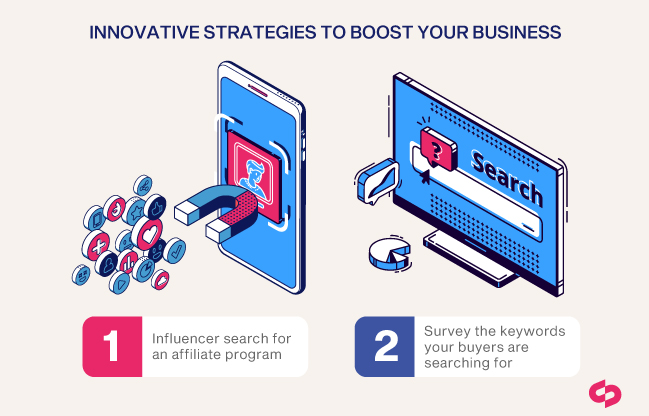 Influencer search for an affiliate program: Scraping social networks allows you to identify the most important people in your sector and discover who is talking about what. Since these personalities will be targeting the same demographic as you, you can start a referral/affiliate program and reach more and more people. Because these influencers will be motivated to market your products or services, you can make sure the right people are buying or consulting to generate a business deal.
Survey the keywords your buyers are searching for: To get an idea of ​​the key terms potential customers use to find products like yours, scraping Amazon's search suggestions is one idea that might work. Using Amazon web scraping, you will be able to see the most popular keywords being used in relation to your product. You can then use these keywords on your website and in your marketing campaigns to ensure that you reach your target market where they are already searching. You can also scrape the major search engines to get the same data. For example, put your keyword in the search and find out what kind of content your competitors are creating for their products.
Challenges and problems of scraping in electronic commerce
Clearly, automating and integrating e-commerce website data extraction service into your daily processes can be a difficult task due to:
Interface changes: Most e-commerce websites change their formats and fonts to improve the customer experience and appeal to a diverse audience. Changes to a website's interface require reprogramming of the technology solution to match the new content display (which we do without extra costs).
Anti-scraping techniques: Many e-commerce platforms implement anti-scraping techniques, such as CAPTCHA, to ensure that their visitors are human and decrease network congestion. CAPTCHAs are difficult for scrapers to bypass. However, some services integrate CAPTCHA solvers to address this problem.
Cloaking: Cloaking is the practice of presenting different data if a website believes the visitor is a bot or scraper. Many e-commerce websites use cloaking to feed bots incorrect product data or redirect them to irrelevant URLs. However, cloaking is considered illegal and a violation of Google's Webmaster Guidelines, therefore websites that use cloaking are often banned from Google Search.
Why Scraping Pros?
Data scraping and competitor research with automated methods reduce costs and time spent analyzing large amounts of data. Web scraping is essential for your business in this regard, automating operations such as data collection and analysis, drastically speeding up the development of e-commerce. Instead of assigning and performing manual tedious tasks, you can channel your team efforts into more creative and product development tasks.
When partnering with Scraping Pros for your E-commerce, you will obtain information in real time and new insights to make faster decisions aimed at improving profitability. You'll be able to customize your analysis of various sites and information sources, with a framework that is able to handle any large-scale data extracion project on the web.                                     
If you would like to delve into more strategies for your E-commerce, including dynamic pricing, you can check out our previous post on Insights that web scraping makes easy.
Do not hesitate, to find out more about the potential benefits of having web scraping for your e-commerce and trust Scraping Pros to make your business profitable.
REQUEST FOR AN END TO END SCRAPERS PROJECT QUOTATION
No matter your data needs, we can help.
We identify, extract, clean, filter and deliver the data in the desired format ready for use in your database or in your upload queue. We adapt the data delivery to your integration requirements. We provide a reliable, secure, robust, and traceable response to your web-data need. We have the expertise to solve highly complex extraction tasks: OCRs, multiple-steps-extraction, proxy management, etc. We provide our 7x24 web-data storage and processing infrastructure, SLA 99.999%
We've helped over hundreds of companies with needs of scrapers. Ready to know how we can help you?
Follow Us