Although the process of scraping data from websites has been around for many years, recent technological advances and improvements in the capabilities of professional teams have made web scraping an increasingly popular and highly valued solution for businesses, including corporations in the pharmaceutical industry. In this post, we will review the main benefits that pharmaceutical companies and laboratories whose core business is based on web scraping and data-driven are finding.
Today's pharmaceutical industry is highly competitive and companies are always looking for ways to gain a competitive advantage. Recently, many pharmaceutical companies are turning to data scraping to collect data that they can use to analyze market trends, monitor competitors, adjust prices and promotions, and make more informed business decisions. Millions of consumers and professionals around the world use data extraction to find data about hospitals, health centers, and medical facilities, properties of drugs and medical equipment, as well as the latest treatment trends.
A clear example of this is the phenomenon of online pharmacovigilance, a key issue to improve all drug risk monitoring based on advances in data scraping and the automation proposed by data extraction from the web.
Now, you may wonder, what benefits me investing in web scraping, will I see quick results in my pharmaceutical company?
The reality is that hiring web scraping services allows companies to collect a large amount of quality data quickly and easily, without added maintenance costs. By using integrated data solutions, companies can extract data from multiple sources, including websites, social media platforms, and online forums. This data can be used to track product mentions, monitor drug prices, and identify new market opportunities.
On the other hand, this technology is valuable for companies to collect data that is not readily available through other sources. For example, companies can use web scraping to collect customer feedback, track prescribing trends, and monitor public sentiment toward their brand. Beyond this, there are legal and ethical considerations to be considered, especially in highly regulated industries such as pharmaceuticals.
What kind of information can I extract for my business? Extracting data from online sources will allow you, for example, to extract specific data related to doctor and provider details, drug prices, hospital locations, emergency rooms and clinics, hospital and provider reviews, health plan enrollment for providers and hospitals, healthcare data supporting public health research, medical equipment and supplies, drug development data, clinical and pharmacy monitoring, specific hospital and clinic locations, and medical personnel data for human resource development plans.
At the moment there are three clear benefits where the pharmaceutical industry can take advantage of all the potential of web scraping. Explore these enormous potentialities!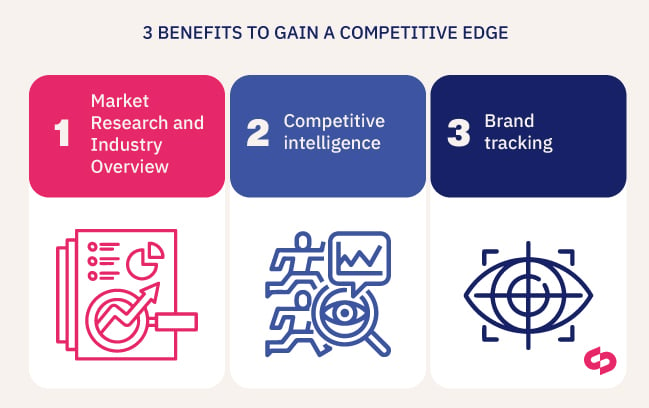 Market Research and Industry Overview: Web scraping has become an essential tool for pharmaceutical companies whose purpose is to conduct market research. By using data mining solutions, companies can identify new market opportunities, track competitor activity, and monitor industry trends. This data can be used to inform product development, marketing strategies, and business decisions. In this regard, pharmaceutical companies can use web scraping to collect data on prescribing trends. These data are currently used to identify areas where there is high demand for certain drugs, as well as areas where there is potential for growth. This information is also useful for comparing different drug providers and their levels of compliance.
Competitive intelligence: Today pharmaceutical companies seek to collect competitive intelligence data. By using integrated web scraping services, companies can monitor competitor activity, track product launches, and gather information on pricing strategies. All information can be centralized in the same database tailored to the needs and requirements of each company. In fact, pharmaceutical companies can implement web scraping to identify new products that their competitors are launching and anticipate real demand. This data can be used to inform product development and marketing strategies. Similarly, pharmaceutical companies can use web scraping to gather information on pricing strategies, considering the changing dynamics of drug prices -key data to inform pricing decisions and ensure that products are always competitively priced.
Brand tracking: Pharmaceutical companies found an essential solution to monitor their brand online. By using web scraping techniques, companies can monitor social media platforms, online forums, and other websites for mentions of their brand. For example, pharmaceutical companies can use web scraping for regulatory compliance, or to collect data on customer feedback and opinions, among others. This data can be used to identify areas where there is room for improvement, as well as areas where the company excels. Similarly, pharmaceutical companies can use web scraping to monitor public sentiment toward their brand -another key data to inform marketing strategies and ensure that the company gives a positive image to its stakeholders or improves aspects of brand reputation. This is one of the newest points in the use of web scraping for pharmaceutical marketing.
Why you should choose Scraping Pros to ensure the success and competitiveness of your business
There are four great strengths in which Scraping Pros can be the strategic ally of your pharmaceutical company:
Automatic data extraction: Say goodbye to tedious manual processes and free up time and resources for other tasks with our Web Scraping services.
Your Success is Our Priority: Personalized Attention and Unmatched Support every step of the Way!
We clean and audit data to facilitate analysis and decision-making in the pharmaceutical market.
Personalized data delivery: tailored to your specific requirements and the desired format of your company or pharmaceutical laboratory.
From Scraping Pros, we have a strong experience and capacity for teamwork in the pharmaceutical industry and proven results. Through an affordable cost and a simple process, you will verify the important benefits of having personalized data scraping services for your business.