Real Estate | Web scraping is the process of automatically extracting data from websites. It's an essential tool for anyone who wants to make better, more informed decisions about the real estate market. By monitoring the top marketplace websites, you will have access to millions of listings that can help you optimize prices, increase and engage customers, analyze homebuyer sentiment, and automate targeted advertising and recommender systems.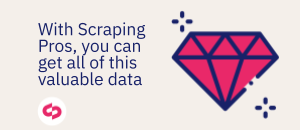 With Scraping Pros, you can get all of this valuable data without ever having to leave your desk. We offer a web scraping platform that makes it easy for anyone to extract data from any website. Plus, we have a team of experts who are always available to help you get started quickly and easily. So why wait? Contact us today!
Click this now and schedule a meeting to know our web scraping services!