Currently, more than 90% of real estate purchasing decisions are made based on data available on the web, data that is displayed on several reference real estate websites. Access to this data is essential for a successful and sustainable business, both for agents and companies in the real estate sector. In this post, we will understand how Web Scraping can make the real estate monitoring process more efficient.
Big Data is changing the face of the real estate industry as more companies seek to implement data-driven decision-making strategies to multiply profits, increase customer satisfaction, and mitigate market risks.
Why use Web Scraping to face these new challenges in the industry  for real estate monitoring? In the real estate sector, we understand Web Scraping as the practice of collecting data about properties and consumers from online websites to identify available properties, analyze consumer needs, and optimize prices.
The details of thousands of properties within a location can be extracted in structured table format and saved in a spreadsheet or database. By analyzing this data, you can make informed investment decisions that maximize the return on investment and make this process much easier, by creating your database (see previous post from Scraping Pros).
An Example of a Real Estate Market Problem: Rentals
It should be noted that the real estate market is experiencing various problems in some regions of the world.
The rental of properties is usually a global problem and in the main Europe, prices skyrocketed due to the lack of supply and demographic growth, taking them to historical highs. After the pandemic, specialized international workers, who earn more than national workers in some cases, began to move to large cities such as Paris, Dublin, Berlin, and Lisbon, at the same time that the in-person reactivation of universities made cities like London and Amsterdam also once again increase their demand for housing.
In the United States, the case of New York is very particular, since it was decided to regulate tourist rentals and apply a series of restrictions to short-term rentals that the tourist accommodation platform Airbnb considers a prohibition on its activity. The new regulations require all hosts to register with local authorities since New York prohibits the rental of entire apartments for less than 30 days when the owners are not present, something that this type of business often does not accept.
While in China the liquidity crisis and the bankruptcy announcement of the main housing developers triggered a wave of nervousness in the markets due to the possible risk of contagion in other parts of the economy of the Asian giant and the world.
All of this leads the Real Estate sector to face multiple challenges to provide better services, optimize its processes, and make the platforms more efficient for its users, especially when the client faces the process of searching for a property suitable for their needs.
Benefits of Using Web Scraping for Real Estate Monitoring
Web Scraping offers numerous real estate monitoring advantages for your real estate business. Some of them are: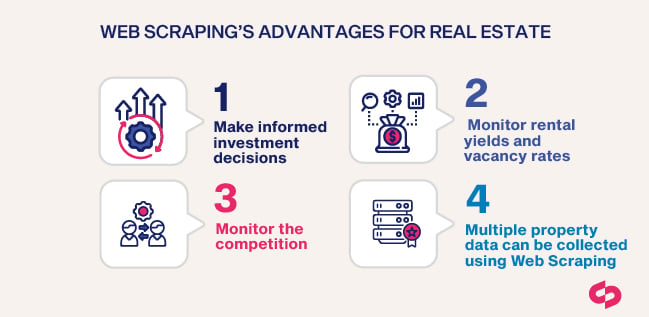 Make informed investment decisions: Web Scraping helps real estate agents find properties that best fit the client's requirements and budget. Properties can be compared based on bedroom, bathroom, area requirements, amenities, locality, price range, etc. The data extracted will give real estate agents an edge in their business over their competitors when selling or buying properties.
Monitor rental yields and vacancy rates: Using the data obtained through Web Scraping you can find neighborhoods that offer higher property rental yields. This helps to invest in properties that provide a better return on investment (ROI) in the long term. Data pulled from the web will also help you avoid neighborhoods with high vacancy rates. Analyzing the data that is in spreadsheet format helps you make correct investment decisions based on such parameters.
Monitor the competition: Through real estate monitoring solutions, Web Scraping also helps agents keep an eye on competing properties and prices. Price trends can be monitored to make better investment decisions. Most of these solutions allow for scheduled and automated Web Scraping so that the latest property and pricing data is available.
Multiple property data can be collected using Web Scraping All data publicly displayed by real estate websites can be tracked. This includes:

Property: Space, number of rooms, number of floors, type of property (apartment, condominium, house), etc.
Prices: Prices vary depending on Location, Property Size, and Price Type (e.g. rental, sale, mortgage).
Home Buyers/Clients: Hot neighborhoods, property reviews, customer prices, etc.
Competitors: availability of properties on the competition's website, price ranges, and marketing material.
Public records: Insurance, loan and mortgage records, average family income statistics, surveys, etc.
Websites That Provide Relevant Real Estate Data
Real estate websites get a lot of attention every month because they have great value for both buyers and sellers. Buyers can search hundreds of homes and apartments online. The features and photographs of the seller's home are viewed by hundreds of buyers looking to purchase a new home. Here we give clear examples of sites that work for different purposes:
Real estate markets. These markets function as intermediaries between owners and buyers/tenants. Examples include Zillow, Redfin, and Airbnb.
Real estate listing sites. These are real estate platforms where people can find homes for sale or rent. Some examples are Zoopla, Rightmove, and Realtor.
Property management sites. Typically, property management sites focus on residential and commercial properties. Examples include Appfolio, TennantCloud, and Yardi.
Real estate aggregators. It is a real estate site that collects real estate listings from different sites and displays them in a unified manner. Some examples are Nestoria, LoopNet, and Apartments.com.
Why Scraping Pros is The Opportunity at Your Fingertips
With Scrapring Pros you can manage all your real estate monitoring needs, and focus on what matters most: growing your business!
You'll be able to access a wide variety of data without having to worry about how it's collected or formatted – all we need is a URL and our team will take care of everything else for you. Feed your business with audited and integrated data from different websites, relying on Scraping Pros' complete web data extraction services.