Customer Service is one of the keys to every business' success
It involves all purchase stages. It's an ever-expanding area related to quality of experience. However, brands often use traditional or manual methods to find out what the customer thinks of them, or their products and services, which generates enormous human efforts or costs. In many opportunities they are unaware of the power of Web Scraping to simplify this process, automating the cost and saving thousands or millions of dollars, increasing the profitability of the brand, and obtaining new insights of value for the business. Find out in this post the amazing advantages of our scraping service for customer service.
Businesses of all sizes are looking for new and innovative ways to grow. One strategy that is gaining popularity is to scrape customer reviews. This process can give companies valuable insight into customer thoughts about their products or services. In addition, the data collected can improve marketing efforts and create more effective business strategies.
What is sentiment analysis and how does it add value to the brand? It is the process of identifying positive, negative, and neutral sentiments in text form, such as reviews or comments. Understanding this is an essential path to better products or services and the company can turn to web scraping services for this type of research.
Nowadays, browsing the internet and looking for trustworthy reviews before making a purchase is a common practice. When potential customers see that others have had positive experiences with a business, they are more likely to be willing to try it themselves. In fact, a company should always listen to customer complaints, even when they are directed at the competition. According to a Nielsen study, 84% of consumers trust brands recommended by their friends, family, or acquaintances more. And according to a Gartner survey, 64% of people consider the experience more important than the price when making a purchase.
As if this were not enough, it is clear that a satisfied customer will certainly consume your product or service again and that is the objective. However, according to the Harvard Business Review, attracting new customers can be up to 25 times more expensive than gaining the loyalty of those who already buy from you.
So, the Customer Centric idea is a long-term vision that will make the growth of the company sustainable and will retain existing customers.
There are success stories of companies that have put the customer at the center of their strategies. To mention a few examples, McDonald's saw how its competitors began to gain ground and decided then, for the first time, to pay due attention to its customers' feedback (including healthier menu options, installing self-service totems, and beginning to communicate better with their customers on social media). Another relevant case is Amazon: its founder has stated on countless occasions that customer centricity is his banner and priority. It has done this not only through reviews that help make purchasing decisions, but also through loyalty plans, fast delivery, integration with other audio and video platforms, and highly personalized services. Finally, another recurring example is that of Slack, a tool that integrates communication, messages, and interaction within companies and its main priority is to meet the needs of customers in relation to these work activities, adapting to changes in the work culture. This company stated on numerous occasions that it does not measure its success by sales but by customer satisfaction indicators, such as NPS (Net Promoter Score) or CES (Customer Effort Score).
Customer Service hand in hand with Web Scraping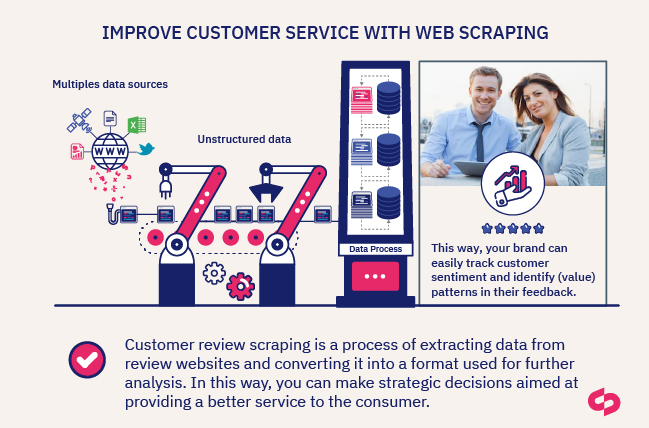 In what way can Web Scraping contribute to the customer sentiment analysis process and, in turn, provide key information to improve the customer service of a company or brand?
Customer review scraping is a process of extracting data from review websites and converting it into a format used for further analysis. The data extraction process takes different sources from the most relevant public sites for the company's target. The extracted information is structured in a friendly format for the company, as a single centralized database and is processed according to the interest of the client to add valuable data to the processes. This way, your brand can easily track customer sentiment and identify (value) patterns in their feedback.
An example is that companies can improve their SEO by knowing in depth the value reviews of the company in question and its direct competition, reviews that include phrases and keywords related to their product or service, and offering new content for search engines. They also help build your social proof, an important ranking factor for SEO that tells search engines that your website is trustworthy and relevant.
Another very important factor is that Web Scraping has become an essential tool for companies to monitor their online reputation. By collecting customer reviews from sites like Amazon, Yelp, and Google, brands can better understand what people are saying about them and look for areas where they might need to improve. Additionally, Web Scraping can track reviews of your business over time, allowing you to see how your reputation is changing. This can be especially useful for companies that are growing rapidly or making changes to their products or services. By keeping an eye on your business's online reputation, you can ensure that you're always doing your best. In this way, you can make strategic decisions aimed at providing a better service to the consumer.
At the same time, Web Scraping focused on customer knowledge, also provides us with a detailed analysis of the commercial review of the competitors: you can collect customer reviews about your direct competitors or those that you are most interested in monitoring, giving you an idea of ​​what people like and don't like about your products or services. It can also help you identify areas where you have an advantage over them. For example, if customers complain about long wait times, you could highlight your fast service in your marketing materials. Using customer reviews for competitor analysis can help you fine-tune your business strategy and ensure you're delivering the best possible experience for your customers.
Scraping Pros: the key to your customer service solution
At Scraping Pros, we have a completely flexible and adaptable solution for your business. Whether you run a startup, midsize or large business, we provide the right service with capabilities to mine the web data that matters to your business, monitor your competition, and gain new insights about your customers.
We have proven experience in the market of more than 15 years. Our Web Scraping service is more cost-effective than any other and automates tedious manual processes, freeing up your company's time and resources for other core business activities. Our models are flexible, trained, and scalable to any project even if the volume of data is enormous. Our compliance makes us send you the data according to your needs, sent in real-time, and structured orderly manner and with legal regulations.
In short, Scraping Pros can provide you with real-time data, new insights and trends, and valuable insights to make informed decisions quickly. In this way, you will increase the profitability of the business, you will know first-hand what customers think of your brand and you will optimize your customer service.
Get in touch with us free of charge!
Let us help you enhance the power of online data.
Looking to harness the power of data to make informed business decisions and thrive in modern competitive markets?
Fill out the form below to get in touch with our team of experts, and let us help you extract valuable data insights to drive your business forward.
We've helped over hundreds of companies with needs of scrapers. Ready to know how we can help you?
Follow Us