In November 2022, the artificial intelligence company Open AI released the free trial version of an artificial intelligence tool called ChatGPT. It is software that simulates and processes human conversations and is trained to answer almost any question or prompt given to it. Within a week of its launch, it reached 1 million users and over 57 million monthly users in the first month. No chatbot has ever received as much attention or people talking as much. ChatGPT's impressive performance undoubtedly has the public considering how it will change lives and worrying if it can replace jobs or other tech solutions soon.
Just a month later, these discussions came to the Web Scraping area with questions such as:
Or, to put it more pessimistically, will ChatGPT replace Web Scraping services?
ChatGPT can be a useful guide to provide information, but not an extraction service that can collect data for you
For example, you can request a code and ChatGPT will generate lines of code to copy and paste. This means people can save time because they no longer need to write code manually.
But if we ask ChatGPT to scrape the destination website directly and provide us with the data, the chatbot cannot perform this task. It can only serve as an aid or guide since it is a limited language model.
In conclusion, Web Scraping knowledge, and services remain indispensable and irreplaceable. ChatGPT won't be replacing them anytime soon. While it stands out in the area of ​​chatbots and is one of the biggest innovations in AI, it is too early to think that it can be as productive as Web Scraping Services.
Although artificial intelligence and machine learning technologies continue to evolve rapidly, Web Scraping, also called "web data extraction" maintains its essence: it is an automated process of enormous added value for the business, an automatic method to obtain large amounts of data from websites and export them in a structured format. The more experienced the people and the more developed or specialized the data extraction projects, Web Scraping will continue to maintain its original value regardless of the evolution of other artificial intelligence tools.
Why does Scraping Pros solve your data needs as no other provider does?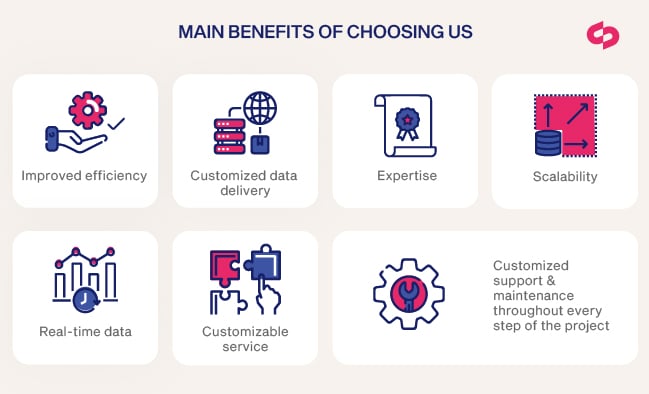 Improved efficiency: Our web scraping service is more cost-effective and automates tedious manual processes, freeing up time and resources for other core business activities.
Customized data delivery: Sending the data according to the unique needs of each customer.
Expertise: We have +15 years of expertise in web scraping and, with our world-class technical capabilities and resources, we provide high-quality data extraction services.
Scalability: We have the resources and infrastructure to handle large-scale data extraction projects.
Real-time data: Web scraping can provide real-time data, new insights and trends that can be used to make informed decisions quickly.
Customizable service: to extract specific data fields, filter out irrelevant data,and provide data in a specific format
Customized support & maintenance throughout every step of the project