Data cleaning, also known as data cleansing and scrubbing, is one of the most important steps for your organization if you want to create a quality and optimal data-driven strategy. When heterogeneous sources are combined in the data extraction process, there is a high probability that the data will be duplicated or mislabeled. For this reason, implementing a data purification service is key to the sustainability and efficiency of the business.
When using data, most people agree that their insights and analysis are only as good as the data they are using. Essentially, the junk data coming in is junk analytics. If your organization is in the process of creating a culture around quality data decision-making, then Data Cleansing is the logical response to optimizing this process.
This data cleansing is the process of correcting or removing incorrect, corrupted, malformed, duplicate, or incomplete data within a data set. When multiple data sources are combined, there are many opportunities for data to be duplicated or mislabeled. If the data is wrong, the results and algorithms are unreliable, even if they appear to be correct. There is no absolute way to prescribe the exact steps in the data cleansing process because the processes will vary from one data set to another. But it's crucial to set a template for your data cleansing process so you know you're doing it the right way every time.
What is the difference between data cleaning and data transformation?
Data cleaning is the process that removes data that does not belong in your data set. Data transformation is the process of converting data from one format or structure to another. Transformation processes may also be referred to as data wrangling or data manipulation, transforming and mapping data from one form of "raw" data to another format for storage and analysis. This article focuses on the cleanup processes for that data.
Why is Data Cleansing Important?
Data cleansing is vital to ensure high data integrity in an organization. If all the information available is reliable, then the decisions made based on it will be the most accurate.
The quality of data may vary depending on its quality, among the main ones are:
Accuracy: All data within your company must be accurate. One way to check their accuracy is by comparing them with other sources. If this source does not exist or is inaccurate, then the information you have will also be inaccurate.
Consistency: Data consistency lets you know if the contact information you have for a person or organization is the same across different databases, tables, or applications you use.
Validity: all data must comply with defined rules or restrictions. In the same way, each piece of information must be able to be validated to verify if they are correct or not.
Uniformity: all the data within your databases must have the same values ​​or units. This is an essential element when doing data cleansing because if you don't have everything in order, the process becomes complex.
Effective tips for Data Cleaning
Here are some non-exhaustive tips or recommendations for effective data cleansing: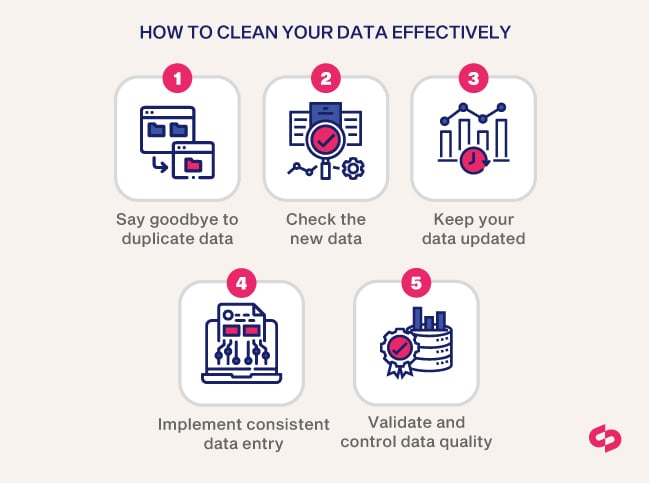 Say goodbye to duplicate data: Duplicate data often occurs for two reasons: first, inconsistent data entry, and second, multiple channels capturing contact information. Some tools can help you eliminate this duplicate data. If you've never done deduplication before, you may also need to manually scan and edit your contacts. Although this task may take some time, doing it right from the beginning will help ensure that new data entry meets quality requirements and you only have to do this activity once. To avoid having duplicate contacts in different apps, you can keep your main tools in sync, eliminating the need to enter the same information on different platforms or places.
Check the new data: Implement a comprehensive system across your business to ensure that all new and updated data is correctly entered into your central database. For example, you can verify that your team always fills out certain information fields (like name, phone number, and email) in your CRM using the same format. You can also set some to be required when creating a contact record to avoid missing data and everyone meeting the same information. Another option is to set up contact synchronization between your CRM and other tools. This guarantees that both your management platform and your other applications have the same information. In this way, you reduce the probability of errors when entering new data.
Keep your data updated: Some industry data indicates that around 70% of the data within a CRM becomes obsolete annually. This is due to various reasons, but among the main ones are the usual changes within the same organizations. While for every 30 minutes, a new company is formed, and at the same time 20 managers leave their jobs. These internal movements entail changes in emails, new telephone numbers, new positions, and others; this means that there will be a large number of stale contacts. Therefore it is better to keep your data updated by implementing some tactics. One of them is to use analytics tools that scan all incoming emails and update contact information as it becomes available. If a contact changes roles or organizations, your central database can be updated instantly. You can also remove any email addresses that have bounced or been excluded. Most likely, this type of information is found in your email marketing tool. This wonderful practice also supports you in staying out of spam folders.
Implement consistent data entry: It does not matter that you have the best data cleaning strategy if the data dump does not have good practices in your day-to-day. Make sure that all your collaborators know the data entry standards of your company. For example, make sure they know which information fields to fill out when creating a contact record, how to check for duplicate data before creating a new contact, and that they're entering data into the correct apps. If you follow these simple tactics, you can be sure that your contact database will be impeccable. Don't forget to bi-directionally sync data between your key business applications – minimize manual data entry and ensure you're always looking for the most up-to-date and accurate contact information across all your tools.
Validate and control data quality: At the end of the data cleansing process, you should be able to answer these questions as part of basic validation: Does the data make sense? Does the data follow the appropriate rules for your field? Does it prove or disprove your theory of work, or does it bring to light any ideas? Can you find trends in the data to help you form your next theory? If not, is it due to a data quality issue? False conclusions due to incorrect or "dirty" data can inform poor trading strategy and decision-making. False conclusions can lead to an embarrassing moment in a reporting meeting when you realize your data doesn't hold up to scrutiny. Before you get there, it's important to create a quality data culture in any organization. To do this, it is important to document the tools you could use to create this culture and what data quality means to you.
Advantages and benefits of Data Cleaning
Having clean data will ultimately increase overall productivity and enable the highest quality insights into your decision-making. The benefits included in this solution are:
Elimination of bugs when there are multiple data sources in play.
Fewer errors make customers happier and employees less frustrated.
Ability to map the different functions and what your data is intended to do.
Bug monitoring and better reporting to see where the bugs are coming from, making it easier to fix bad or corrupted data for future apps.
The use of data cleaning tools will make business practices more efficient and decision-making faster.
The Value of Scraping Pros as a Data Cleansing Service Provider
At Scraping Pros, we have the skills and experience to help you understand your data by identifying patterns, trends, and relationships that would be difficult to discover with inaccurate or incomplete data.
Our team understands the importance of clean data in today's data-driven world. That's why our process involves world-class techniques, including data profiling, data standardization, data validation, deduplication, and data enrichment.
Don't hesitate, our data cleansing services can help you achieve a wide range of benefits, including better data quality, increased efficiency, reduced costs, and better customer insights.