Today all companies understand that information is valuable and that incorporating data-based strategies is essential for business. And especially Startups, which since their birth, understand the importance of including a cross-company data science department. In this post, we will explore the benefits and added value of implementing Web Scraping in the field of Startups.
Startups often face multiple difficulties and challenges in the beginning and efficient data collection is one of them. It is overwhelming to obtain the data needed at such a large scale to continue your operations. Web data extraction, of course, has saved them a lot of time and manual effort compared to previous times.
Business executives currently spend more than $6 billion a year to create solutions using data management platforms and demand-side platforms to deliver their message to users. However, statistics indicate that only 10% of the data collected from the Web is used by companies to improve their decision-making. What happens, then, with the remaining 90%?
There is a gap in the real use of this data, since – in the case of startups – data extraction automates the data collection process so that they can carry out their market research effectively and with savings of thousands of dollars per month.
So much so that the use of smart technology for business can eventually help these companies save a lot of time and costs related to the data collection process. Due to new exposure in the market, new businesses need to rely heavily on crucial market data insights to help them adapt to pre-existing competition.
Data sets that can be valuable for your startup
The heterogeneity of available data is such that it is very important to know, first of all, what your objectives are, that is, what you want to achieve with this information.
Thus, you will be able to outline a plan that maximizes results and limits the work of data collection, maintenance, and monitoring.
This task is very laborious since it involves the following challenges:
Have updated data
Deal with countless formats
Be able to scale if the volume requires it
Be ready for change
Require comprehensive monitoring
Knowing in advance what objectives and scope is vital to determine: what you can download within the wide spectrum of information available on the web and how to use said data to achieve your goals.
Regarding what you can download, you can find a wide variety of information:
Product catalogs
User profiles
Comments/Opinions
News
Consuming patterns
Personal information
About how to use the data, it is also fundamental: the same type of data can arrive in multiple ways.
Therefore, it is very important to know how the information you want to extract will help you to add value to our products in a cost-effective and fast way.
Benefits of Web Scraping for Startups
Among the main advantages of implementing this technology in your startup, we can mention: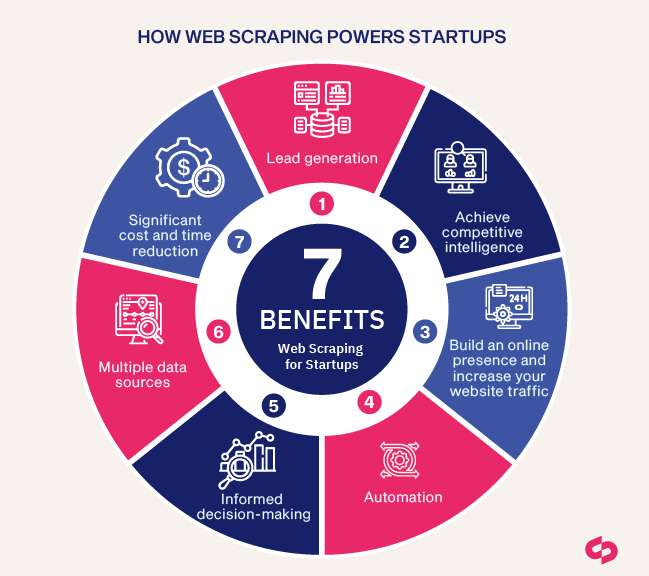 Lead generation: Lead generation is an important task for startups. They struggle to deduce relevant and useful leads to generate more conversions. Any startup relies heavily on its lead generation and conversions to thrive in the market and maintain its presence. Web scraping provides a simple solution for startups. It helps to quickly create a list of target prospects that match your customer profiles. Information such as your emails and phone numbers can be easily collected across different social media sites using web scraping tools.
Achieve competitive intelligence: Using web scraping to collect data and gain insights into competitor activities to design better strategies and increase market share is another benefit of using data scraping. Achieving competitive intelligence is something that can take a company from the lowest level to new heights. Web scraping allows startups to easily collect pricing and other industry trends to always stay one step ahead of their competitors. Track customer reviews, complaints, and new opportunities in the market in real-time situations to leverage your business functions and quickly control the situation.
Build an online presence and increase your website traffic: Web scraping for businesses raises awareness about the nature of customers by carefully analyzing their behavioral patterns, through historical data. This gives you an advantage to optimize your business operations and strategies as per the demands and needs of your customers. Additionally, you can keep an eye on market activities through different websites and search engines to present a proactive nature and successfully build a positive brand image online. With the right type of marketing strategy, you can attract various opportunities for your business, such as affiliate networks, customer loyalty, advertising, and an edge over the competition. Another benefit is that it provides you with detailed information about the activity of your site visitors. You can monitor users visiting your sites by recording various analytics over time and successfully understanding their behavioral patterns. At the same time, you can gain access to particular search terms or keywords that people use when browsing the Internet or searching for a particular type of product or service. Using the accumulated information, startups can use the best combination of keywords and marketing strategies to capture the attention of their potential visitors. In this way, in the medium and long term, you will increase your website traffic and make better and higher conversions. The benefits are not immediate but still, with constant data extraction work, you will maximize your revenue generation and profit margins using an appropriate web scraping service.
Automation: By replacing manual methods of collecting crucial information needed to run a business, data scraping has effectively automated the entire process. It helps startups save costs and time by making the process efficient and fast. This way, you can use the money and costs saved on other important business functions. In short, it is a win-win situation for everyone. Additionally, since the process is now automated, the data collected is reliable and relevant based on the search query performed. The earlier times there were chances of errors due to the presence of manpower involved. But now, the information collected today is error-free.
Informed decision-making: Web scraping also helps startups make more informed decisions by efficiently analyzing the data they have collected. Instead of manually searching for data, they can now leverage real-time information and better understand their customers to adapt quickly and stay ahead of the market. You can take note of both historical and current market trends to easily analyze different customer patterns and behaviors to improve your decision-making.
Multiple data sources: Web scraping allows startups to easily access data from different sources, such as online databases, public records, and third-party websites. This helps them create a database of valuable information that can be used for various business applications. Previously, when data was extracted manually, there were some limitations on the number of sources from which data could be accumulated. But with multiple data sources, a broader market opportunity for companies has expanded. You can take advantage of this benefit and expand your network to access new market segments and better opportunities.
Significant cost and time reduction: By removing manual work from the process, startups can benefit from reduced costs and time. Data extraction services are automated. They are naturally efficient, helping you easily extract relevant information without wasting time. Therefore, especially startups who need more time to perform other business functions can take advantage of this huge benefit.
Reducing task complexity
In this post, we have been highlighting the importance of establishing an organized and effective Web Scraping Process for data extraction. That is, what considerations must you make to convert the extracted data into information that increases the value of our products and customer confidence?
Blank or deleted data, spelling errors, local formats, and non-standardized information end up being stored in company databases, disproportionately wasting the quantity and value of the information stored there.
In this flood of data, obtaining the correct information useful for building learning models has become a very costly task in time and resources.
At the same time, the ever-changing demands of customers require more innovative technological solutions tailored to the organization. With the explosion of web information and electronic transactions, companies have become increasingly dependent on smart technology, especially artificial intelligence, big data, and machine learning.
Are your competitors using Web Scraping and you are not?
Knowing these solutions and taking advantage of their potential is the key to reducing the complex process of information extraction on the web and having quality data, purified and integrated into your database, to make daily decisions and increase your profit margin.
All of this without failing to take into account that the information on the sites is extremely dynamic, since it changes every day (from news to customer opinions, trends, or consumption patterns), and is built through multiple heterogeneous sources (online databases, public records, and third-party websites) and is growing exponentially, which at first might seem like an overwhelming problem.
However, a professional and suitable data extraction provider will allow you to deal with these issues and consolidate your data science department: you will have the necessary flexibility to address the complex variables of each project as well as the resources and infrastructure to handle any large-scale data extraction project or problem.
Why Scraping Pros is the solution at your fingertips
Without a doubt, making decisions in a startup is much simpler when hiring the web scraping services provided by Scraping Pros.
Our expertise, efficiency and adequate data processing add value to your business and will make your project more profitable. To verify this, you can learn about our case studies and see the excellent results yourself, with the emerging companies that trusted our service.
What benefits will you obtain by having our services?
Improved efficiency: Our web scraping service is more cost-effective and automates tedious manual processes, freeing up time and resources for other core business activities.
Personalized data delivery: we deliver data according to the unique and very specific needs of each client.
Experience: Our team has over 15 years of experience in web scraping and with our world-class technical capabilities and resources, we provide high-quality data extraction services.
Scalability: We have the resources and infrastructure to handle large-scale data mining projects.
Real-time data: Web scraping can provide real-time data, new insights, and trends that can be used to make informed decisions quickly.
Competitive intelligence: we can collect information about competitors and their products, prices, and promotions, among other types of data.
At Scraping Pros we have years of experience leading Web Scraping projects applied to services and strategies in various industries, including startups. We help you grow your business and gain an advantage over your competitors.