Today companies increasingly need data solutions that improve insights and increase accessibility and data quality.  Web Scraping for Data Integration  is an effective solution to this need for corporations whose volume of information is increasing. This automatic integration allows the acquisition and transformation of data from multiple websites into a cohesive workflow.
Recently, many companies have turned to web scraping services in search of more sophisticated solutions for data quality and harnessing the potential of the web data lifecycle. Understanding the data lifecycle becomes more critical to data experts every year, and methods such as web scraping revolutionized how data is being worked upon in the data industry. However, with 2.5 quintillion data points created daily, experts must find new and creative ways to harness the power of this data. So,  the main reason to automatically integrating web scraped data is to give a solution to that problem.
Steps to carry out the automatic web data integration process
Identify: what type and sources of data can provide commercial information, for example, web sources where the information is located. It is about identifying the URL of your data.
Extract: once you have identified and targeted specific data sources, you can begin the web scraping process. It is recommended to hire a specialized web scraping service that gives you this solution.
Prepare: encompasses a larger group of adjacent processes of lower data quality, such as cleansing, normalization, and standardization. This step is critical to ensure that data quality remains stable throughout the integration process.
Integrate: once the data has been normalized and a certain data quality standard has been reached, you can now integrate the data into software services, including large databases. The types of data sources are usually very heterogeneous and include HTML data tables websites, web applications, social networks, public data catalogs, semantic web, online encyclopedias, public PDFs, and structured HTML data.
Use: with fully integrated data, you can uncover valuable insights and hidden patterns from your freshly processed data. For example, companies integrate this data for big data analytics, machine learning, natural language processing, and other business processes.
Main benefits of using Web Scraping for Data Integration in your company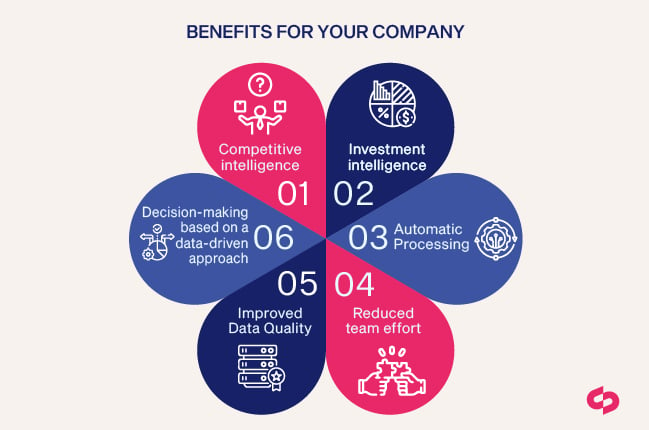 Competitive intelligence: Web data integration gives information about competitive prices, public opinion, and new product/service launches.
Investment intelligence: Investors and analysts can exploit the full potential of web data integration by analyzing web data integration insights from industry blogs, social media, and news sites, analyzing the sentiment and opinions of specific consumers. It is a gold mine as this detailed review analysis will help improve new product/service development.
Automatic Processing: The iterative and enhanced features of the automatic web data integration process enable the recovery of hidden data in HTML files that is not necessarily readable or accessible to human end users. Consider that manual work is usually more expensive and long since a greater effort is needed to avoid losing information.
Reduced team effort: Hiring WDI services is one of the keys to optimizing efforts since your company's human team can focus their attention on the commercial variables that interest them most and on the development or improvement of products. The solution of technical aspects will no longer be a headache for your sales team, delegating the process to external specialists.
Improved Data Quality: The identification and preparation stages of the web data integration process focus on achieving data quality. By selecting the correct data sources you will achieve the absolute benefit of higher data quality and business insights.
Decision-making based on a data-driven approach: Making decisions without valuable information is like flying blind. The WDI helps that the evidence of our business is based on solid data and not on pure intuition or assumptions. Finding hidden patterns in web data is one of the most challenging tasks for your business. But you don't need a big budget to achieve it. Just hire the right service.
At Scraping Pros, we offer added value for all types of businesses and industries:
We deliver and integrate the data according to the unique needs of each of our customers.
Our team of experts provides a tailored solution for your project's goals.
We can handle large projects and volumes of data without compromising its quality, leading to increased efficiency and faster turnaround times.
REQUEST FOR AN END TO END SCRAPERS PROJECT QUOTATION
No matter your data needs, we can help.
We identify, extract, clean, filter and deliver the data in the desired format ready for use in your database or in your upload queue. We adapt the data delivery to your integration requirements. We provide a reliable, secure, robust, and traceable response to your web-data need. We have the expertise to solve highly complex extraction tasks: OCRs, multiple-steps-extraction, proxy management, etc. We provide our 7x24 web-data storage and processing infrastructure, SLA 99.999%
We've helped over hundreds of companies with needs of scrapers. Ready to know how we can help you?
Follow Us