Winning a business or a sale from the competition may depend on pricing it right.  Dynamic price optimization with web scraping  revolutionized the way to give quality data and be increasingly competitive in making business decisions. Stay one step ahead of your competitors with a winning strategy.
What is price optimization?
Usually defined as the analysis of customer and market data, which helps to reach the most optimal price point for a product or service that your company offers. Price optimization determines the best price at the fulcrum of value and profit. The benefits? You'll bolster customer acquisition, maximize sales, and accelerate profits.
Researching the competition can be hard marketing work to do manually and even more so when there are websites that sell thousands of products. Also very complicated if we find websites that offer a limited number of references but have many competitors. So not having updated information on your rivals can make you lose many customers.
Web data scraping can help us with this job. We can scrape our competitors' product/price lists in real-time to make strategic decisions based on them. There are numerous examples of industries optimizing these prices to stay ahead of the competition, from airlines or hotels using price elasticity to stay competitive, to event ticketing companies using algorithms for dynamic pricing (the higher the demand for a major event will be the price) to e-commerce products or cost-per-click advertising rates that work according to an auction.
Types of information considered in price optimization:
Customer survey data
Historical sales data
Machine learning outputs
Demand fluctuations
Inventory data
Market indicators
Many more..
To monitor prices optimally there are three tips that you should keep in mind:
Starting Prices: The base price helps your customers. They can tell if your product or service is worth their time and investment. The starting price must be optimized. It must be compatible with the reference demand for your product. The optimization of starting prices is essential for companies, for products that remain stable over time.
Reduced Prices: It's a tried and tested track record for acquiring new customers.
Promotional Pricing: Sales of new products and promotional packages can benefit. These are promotions with optimal and dynamic prices according to supply and demand.
But knowing the optimal price of a product or service is increasingly complex since it depends on consumer behavior and market trends, which are increasingly unstable and unpredictable. You start evaluating the needs, wants, and aspirations of your target customers. And then understand those key patterns in your market and industry.
To venture into price optimization with web scraping, these five steps are recommended:
Explore complex data: qualitative and quantitative data are the foundation. They help determine how much your customers are willing and able to pay for your products or services. Examples of quantitative data include inventory information. You can include historical markets, sales data, churn rate, price sensitivity, and more. Likewise, qualitative data provides subjective information extracted from customer surveys.
Set goals and obstacles for your business: This is a profit-oriented approach. This can be achieved by finding the perfect price. Additional sales, customer loyalty, retention, and acquisition are achievable goals. Your usual goal might be to increase the perceived value of the product or to achieve a specific sales price. The key is to maintain precision and rigor in the analysis.
Know your value metrics: measure value metrics is learning and understanding what customers value about your product or service. It's about experimenting with ways to charge for that value and also for specific brand value.
Create Price Tiers (Ranges): After collecting customer data and value metrics, set your company's price tiers. Each level must match a customer category you discovered and the associated value metric.
Continually Monitor Pricing: Every few years you should adjust your pricing approach or model as new features are added. It is fundamentally focused on data on demand, customer behavior, price levels, inventory, costs, and more. However, abrupt price changes can lead your customers to choose your competition. Therefore, the idea is to keep prices stable within your profit margin.
Benefits of using web scraping in your pricing strategy:
The main benefits of optimizing prices for your products or services with web scraping reside in the:
Knowing what position we occupy in the market: if we discover that we are expensive compared to others, we will have to change our strategy by giving more value in other fields or by setting more aggressive prices.
Launch offers: we can see if our competitors have a product that is particularly inflated in price. This will be the ideal time to launch an offer taking advantage of this circumstance.
Increase profit margins: Are we selling a product well below the websites of the same niche? We can increase profits and still be cheaper than them.
Monitor changes on websites: we can receive notices if there are certain changes, such as marketing actions. With this, we will gain time to counteract these actions.
Know at all times what customers think: both of our competitors and our company and obtain the lists of their followers on social networks.
Know how our competitors describe the products in their online stores: How many images do they use for each product? How much text? One of the biggest errors detected is poor descriptions or only one image per product.
Find out what's new in the sector: such as new product launches that right now you are not offering.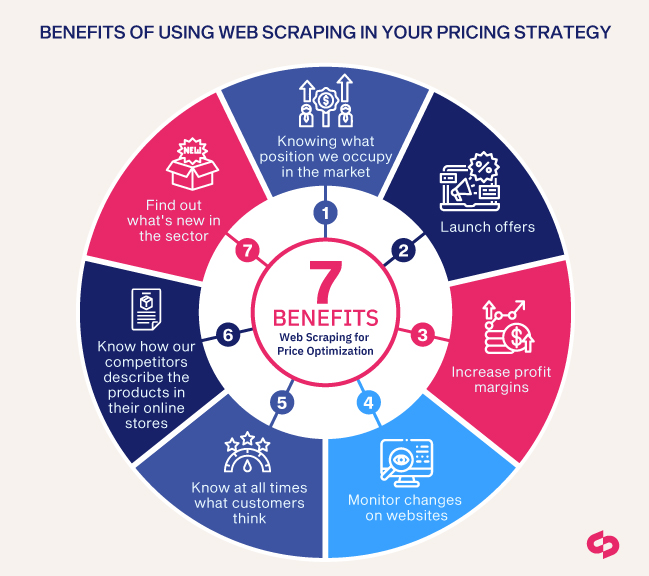 Taking advantage of price optimization with web scraping solutions in a smart way can make all these processes automated, you can focus on pricing tactics and strategies. Objective data can help you make more informed marketing and sales decisions that will increase traffic and ultimately conversion rates.
Get in touch with us free of charge!
From simple to complex data needs, we can handle it all.
Looking to harness the power of data to make informed business decisions and thrive in modern competitive markets?
Fill out the form below to get in touch with our team of experts, and let us help you extract valuable data insights to drive your business forward.
We've helped over hundreds of companies with needs of scrapers. Ready to know how we can help you?
Follow Us