Introduction to Money Expo 2023
As a leading web scraping company, we recently had the honor of participating in Money Expo 2023, a prominent event held in Mexico. This publication aims to share our exciting experiences and the key takeaways from our presence at this renowned exhibition. Join us as we delve into the significance of web scraping, the opportunities it presents, and how our participation in this expo reinforced our position as industry leaders.
Money Expo Mexico 2023 is a premier event that brings together traders, IBs, investors, financial institutions, and brokers from the business and investment community to network, build relationships and stay informed on current market trends and financial insights. It offers the opportunity to connect with leading service providers and enhance investment skills, knowledge, and strategies around the world. The expo was held on May 24 and 25 at Centro Citibanamex, Mexico City, and more than 3,000 traders, more than 300 financial brokers, 30 speakers, and 10 countries participated.
In the context of this event, Scraping Pros had an outstanding participation, consolidating our leadership in the web scraping industry. We received significant recognition and feedback from attendees, eager to learn about the main trends and solutions based on web and data-driven services. The attendees got invaluable information about the latest developments, the benefits of web scraping, and how they could be directly applied to the fintech industry.
Along this prominent event, we focused on: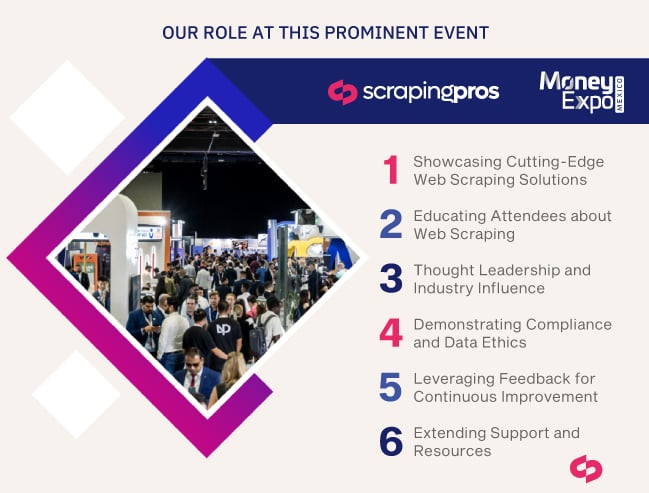 1) Showcasing Cutting-Edge Web Scraping Solutions: Money Expo 2023 provided us with an ideal platform to exhibit our advanced web scraping solutions. We showcased our state-of-the-art tools and technologies that empower businesses to extract valuable financial data from various sources quickly and accurately. Our booth became a hub of innovation, attracting visitors eager to learn how web scraping could revolutionize their operations and decision-making processes. We highlighted the versatility of our services, demonstrating how our solutions cater to diverse industry needs.
2) Educating Attendees about Web Scraping: One of the main goals of our participation in Money Expo 2023 was to educate attendees about the potential and benefits of web scraping. We conducted informative presentations and workshops to familiarize participants with the concept of web scraping and its applications in the financial sector. Through real-life examples and case studies, we illustrated how web scraping empowers businesses with actionable insights, enhances market research, streamlines competitor analysis, and enables informed decision-making.
3) Thought Leadership and Industry Influence: Our presence at Money Expo 2023 allowed us to solidify our position as thought leaders in the web scraping industry. We participated in panel discussions, sharing our insights and expertise on topics such as data-driven decision-making, regulatory compliance, and emerging trends in financial data analysis. By actively contributing to industry conversations, we demonstrated our commitment to shaping the future of web scraping and its impact on the financial landscape.
4) Demonstrating Compliance and Data Ethics: As advocates for responsible data practices, our participation in Money Expo 2023 provided an opportunity to emphasize our commitment to compliance and data ethics. We showcased our robust data privacy and security measures, highlighting how we adhere to industry regulations and protect the confidentiality of sensitive financial information. This aspect resonated well with attendees, showcasing our dedication to maintaining high ethical standards in our web scraping processes.
5) Leveraging Feedback for Continuous Improvement: Participating in Money Expo 2023 provided us with a valuable feedback loop from industry professionals and potential clients. We actively listened to their requirements, challenges, and suggestions, enabling us to gather insights for continuous improvement of our web scraping services. By incorporating feedback into our product development and refining our offerings, we ensure that we remain at the forefront of innovation and deliver solutions that truly address the needs of our clients.
6) Extending Support and Resources: Money Expo 2023 served as a platform for us to extend support and share resources with attendees. We conducted informative workshops and provided educational materials on web scraping best practices, industry trends, and case studies. This knowledge-sharing initiative not only helped attendees gain a better understanding of web scraping but also positioned us as a trusted resource within the financial community.
We are proud and excited to continue sharing these experiences and knowledge with our data-driven community!
If you are interested in knowing more about our web scraping services and solutions, contact us free of charge and we can provide all the information you need to make informed business decisions and increase the profitability of your company. Discover for yourself the benefits of having Scraping Pros as a strategic business partner.
REQUEST FOR AN END TO END SCRAPERS PROJECT QUOTATION
No matter your data needs, we can help.
We identify, extract, clean, filter and deliver the data in the desired format ready for use in your database or in your upload queue. We adapt the data delivery to your integration requirements. We provide a reliable, secure, robust, and traceable response to your web-data need. We have the expertise to solve highly complex extraction tasks: OCRs, multiple-steps-extraction, proxy management, etc. We provide our 7x24 web-data storage and processing infrastructure, SLA 99.999%
We've helped over hundreds of companies with needs of scrapers. Ready to know how we can help you?
Follow Us