Believe it or not, Web Scraping has also reached the world of fashion and is transforming the way of extracting valuable data. In this post, we explore the benefits associated with the extraction of fashion trends forecast, the knowledge, and comparison between products, the monitoring of price data, the analysis of customer preferences, and the support of data decision-making in the areas of design, production, and marketing.
As we have already commented in previous articles, Web Scraping is present in almost all industries. Retail is no exception (you can even see some valuable data in our previous post on the application of Web Scraping to online retail). With the growth of channels, marketing methods, and the profiling of ecommerce clothing data (through online stores and product platforms on the web), the market is becoming more complex to the point that it is necessary to find increasingly efficient techniques or solutions to deal with the extraction of large volumes of data from heterogeneous sources.
In this context of digital transformation, the global fashion industry is a key sector within retail that has been going strong with the new post-pandemic normality. In fact, according to figures from the sector, the fashion industry recorded a strong recovery as it emerged from the pandemic. Global revenue grew 21 percent year-on-year in 2021 and continued to rise in 2022, with revenue up 13 percent in the first half of the year.
However, this industry needs to become increasingly competitive and continue to increase product sales. With the exponential growth of online sales sites (since there is practically no large, medium, or small brand that does not have an online store or cloud store to sell its products), web scraping becomes a key ally to extracting data and insights. valuable in this industry.
How to achieve an efficient strategy to apply web scraping in the fashion trends forecast and clothing sales sector?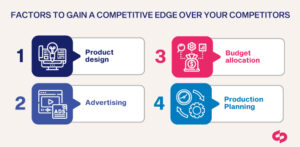 An optimal trend monitoring strategy, including each brand's products, prices, promotions or advertisements, and competitor sites, is best followed with actionable steps that incorporate your market assessment. To design this strategy with Web Scraping, we recommend that you have solid tracking indicators:
A) Product design: Pay more attention to creating a product model that fits the trend your potential buyers are looking for. This is very important and shows your customers that you understand what they want and are committed to giving them the best. You can also create variations where needed. This is also profitable.
B) Advertising: An improved advertising strategy almost always leads to market flow to your brand. This point cannot be overstated. However, this is best done while monitoring trends. It is necessary to incorporate more and more online advertising media and not be restricted to traditional (offline) advertising media.
C) Budget allocation: Does the design or style of the products attract your potential buyers? Do they always mention that your competitor has a better appearance or not? This could involve a review of your budget allocation. You can redirect budget specifications to reflect priorities based on buyer interests.
D) Production Planning: With an understanding of trending products, you can make projections on your production process to match the seasons and different aspects of the market. This will not only improve sales but will increase your customer base.
In the fashion trends forecast, a key aspect in monitoring the market is the seasonality of the products, since the summer season is not the same as the winter season, or the end of the season where there are liquidations of remaining products. All this influences not only the stock but also the possibility of generating attractive promotions or discounts.
At the same time, clothing buyers are changing their styles, tastes, and preferences, so a key aspect of the fashion industry is to have relevant data and insights for a better understanding of consumer preferences and how competing companies adapt their marketing to design new product styles that are compatible with those tastes. All of this means that data extraction work with a web scraper must be increasingly dynamic and flexible to changes in the environment.
On the other hand, a very important factor that is transforming this industry is the presence of influencers on social networks that set trends: influencers promote their favorite styles and, overnight, a trending style becomes a thing of the world. past. At this point, the great fashion designers from fashion shows or traditional advertising set much less of an agenda than influencers, and this has to do with the dynamic digital transformation scenario that we mentioned earlier, and it is growing more and more among young users, generally with millennial, post-millennial and yuppie executive profiles.
How to extract value from fashion sites?
The ecommerce clothing data that can typically extract with a Web Scraping solution are:
Product Details
Name, Description
URL
Image
Variation
Category
Color
Size/Height
Price
Store Locations
Product Reviews
etc.
If your business includes a multi-brand fashion store, you may need product data from multiple marketplaces like eBay, Amazon, BestBuy, and websites like Zara, Adidas, Asos, etc.
You may very well need to customize the scraping process separately for each website or marketplace. In the fashion industry, products often come in different varieties based on style, color, fit, and more. If you extract these products using data scraping tools or software packages, you may be limited to configuring these APIS and may not be able to get all the data of value you need. However, if you hire a professional scraping service, your needs will be met.
Why turn to ScrapingPros for your business in the fashion industry
One of the great advantages of Scraping Pros is to be a flexible web scraping service adapted to changes in your business and the competition: you can feed your business with audited and integrated data from different websites, relying on complete extraction data solutions and web data integration of Scraping Pros and being able to make increasingly informed decisions based on market insights.
We do the work for you – we automate tedious manual processes, freeing you up time and resources so you can perform other core business activities without worrying about the technicalities. We have competitive intelligence capable of collecting information about competitors and their products, prices, and promotions, among other types of data.
At the same time, the fact of having a professional team with more than 15 years of experience in web scraping and our world-class technical capabilities and resources make Scraping Pros one of the leading solutions on the market.
In this sense, our knowledge of the characteristics, opportunities, and potential of each industry means that we can provide you with personalized data daily, according to the unique needs of each project.
Finally, a very remarkable aspect is the scalability of the Scraping Pros service: we have the resources and infrastructure to handle any type of data extraction project on a large scale, no matter how large and complex it may be.
Do you want more information? Contact us free of charge to incorporate integrated web scraping services for your fashion retail and take advantage of the benefits and profitability of developing a fully automated data extraction.