Introduction to Web Scraping for Legal Research
Due to the rise of big data, the digital transformation of industries, and the need to obtain valuable data from large amounts of information, web scraping has become an essential solution for many industries, including the legal industry. In this post, we will explore the ways in which law firms can take advantage of data scraping to improve their business and gain a competitive advantage.
Today the legal industry produces more data than most other industries, and its volume is growing every year. At the same time, the data is changing as new case rulings come out, jurisprudence adopts new regulations and laws, and even new content is published online related to legal issues or industry trends. It is true that the legal field has been slow to embrace data-driven technologies, but that matter is changing rapidly.
So much so that law firms are completely dependent on data to create defense strategies and cases for clients. Until recently, companies still stored all their case files in hard copies. Now more companies are going the digital route and even storing their case files in the cloud. The most common practice areas of law firms are corporate law, intellectual property law, tax law, employment law, immigration law, bankruptcy law, environmental law, and family law.
Cloud storage of legal data has made it faster and easier to collect and analyze data from different practice areas. As a result, companies can better assist law enforcement agencies and reduce the length of trials. Faster analysis of your data streamlines the decision-making process for most companies. And algorithms allow companies to make predictions based on the results of previous cases. They can help companies decide if a case is worth taking on and can also help them develop case strategies.
Another use where data-driven is taking shape is the legal investigation of unfair sales practices. For example, a law firm recently needed to collect massive amounts of data from Walmart and Amazon. The firm worked with various companies to fight against unfair competition regulations. Gathering data from these two mass retailers was an enormous task, as they contain millions of products (20 million Amazon reviews and 4 million Walmart products).
How Web Scraping Powers Legal Research and Legal Decision-Making
The problem is that some data is not available in an easy-to-understand format. Some data is also not available at all. Manual compilation of such a database is possible, but quite tedious. Therefore, a simpler and faster way to solve this task: web scraping of data related to law firms, through a personalized and automatic solution.
This way bespoke scraping solutions can collect and make sense of the data so it can be used in the courtroom. You may wonder, how does this information help my business or law firm?
If you want to know the main strategies and actions for law firms to take advantage of web scraping to improve their business and gain a competitive advantage, this article is the one for you. Learn here at least ten strategic benefits provided by the unbeatable opportunity to use web scraping in the legal industry: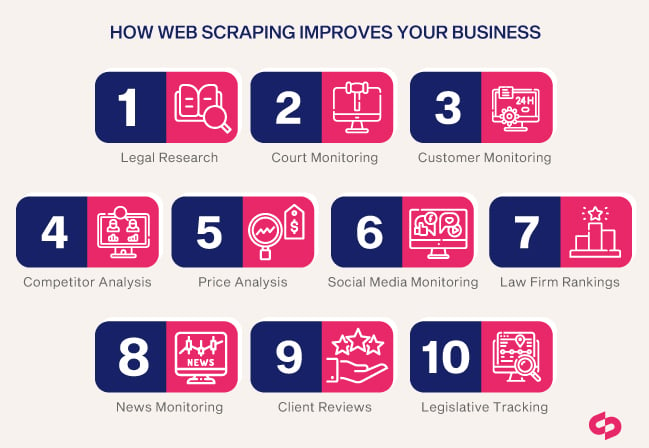 Legal Research: Law firms can use web scraping to collect extract legal data from multiple sources, including case law, legal precedents, statutes, and regulations. This information streamlines legal investigative processes and supports evidence-based decision-making.
Court Monitoring: Web scraping can be used to monitor court websites for new case filings, case updates, and judgments. That way you will be 100% up to date on new cases and court rulings.
Customer Monitoring: Helps monitor customer websites for new product launches, regulatory changes, and other relevant information.
Competitor Analysis: Web scraping can be used to monitor competitor websites (other law firms or legal departments of large companies) and collect data about their services, pricing, and marketing strategies.
Price Analysis: Collect legal service price data from multiple sources and compare it.
Social Media Monitoring: Web scraping is used to monitor social media platforms for mentions of law firms, individual attorneys, and legal issues.
Law Firm Rankings: Collect data on law firm rankings and identify possible areas for improvement. In this way, you will have a clear comparison of the market.
News Monitoring: Web scraping is used to collect news articles related to legal issues and stay informed about major industry trends.
Client Reviews: This solution is extremely useful for collecting data on client reviews of law firms and attorneys. Knowing these opinions can design strategies to attract new customers.
Legislative Tracking: Web scraping allows you to extract data on bills and track their progress through the legislative process.
In short, web scraping is a powerful solution that can provide a competitive advantage for law firms. By using web scraping techniques, you can extract legal data, monitor industry trends, and stay ahead of the competition. With the right skills and knowledge, law firms can use web scraping to gain a deeper understanding of the legal industry and make more informed business decisions.
One of the great challenges is the complexity of the data integration process and automation of the technology associated with web scraping so that you can obtain the data in a timely manner and in the best possible quality.
Scraping Pros as a partner of your legal firm
With Scraping Pros you will develop your project with the data scalability necessary to manage the high volume of legal data, you will have the web data you need in real time and you will be able to make informed decisions quickly and safely. Our practices are audited and governed by strict compliance standards. We have more than 15 years of experience in web scraping, and with our world-class technical capabilities and resources, we provide high-quality data extraction services.
In summary, our solutions have high quality, support, and maintenance. You will not have to worry about the complexity and automation of the technology associated with Web Scraping, and you will free up time and resources to deal with your objectives and strategic goals, without neglecting the technical aspects to achieve them.
Do you want to transform the business of your law firm or your corporation? Today is the right time to consult our web scraping service.
REQUEST FOR AN END TO END SCRAPERS PROJECT QUOTATION
No matter your data needs, we can help.
We identify, extract, clean, filter and deliver the data in the desired format ready for use in your database or in your upload queue. We adapt the data delivery to your integration requirements. We provide a reliable, secure, robust, and traceable response to your web-data need. We have the expertise to solve highly complex extraction tasks: OCRs, multiple-steps-extraction, proxy management, etc. We provide our 7x24 web-data storage and processing infrastructure, SLA 99.999%
We've helped over hundreds of companies with needs of scrapers. Ready to know how we can help you?
Follow Us