Make informed investment decisions using Scrapingpros' advanced web scraping and data extraction services and have a guarantee of quality in compliance.
If you're like most business owners, you're always looking for ways to get an edge on the competition. One way to do that is by gathering as much data as possible and using it to make informed investment decisions. But where do you start? One source of valuable data is financial information gathered from the web. Learn how web scraping and data extraction can help you to get the information you need and make your business thrive.
The first step is to determine if your company has the right technology to extract data from the web that is critical for making investment decisions and regulatory compliance. If you do not have it, the second step would be to obtain professional advice to get the best solutions on the market. 
Would you be interested in knowing the advantages of being a strategic partner of a specialized web scraping and data extraction company for your company?
When financial data is mined with big data and artificial intelligence software and analyzed in real time, it can provide valuable insights for trading and investment decisions. Each company has the possibility to process information from various websites, news, market trends, customer posts on social networks and user reviews. Thus, it collects thousands of different sources to generate a valuable database. But what is the real and operational value that web scraping  brings? 
Web scraping for business becomes so important to your company because the process is impossible to do manually with so much data available. Thus, your company obtains significant savings in time, effort and money.
To get started with financial data mining, you need a defined strategic plan on what data you need to work with, what kind of metrics you need to know about and the best sources to get it from. However, when it comes to using data from the web as alternative data for investment decision making, one issue rules them all: Compliance.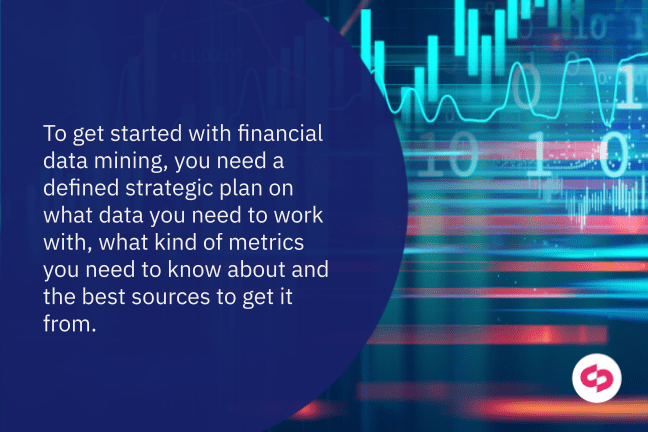 Regulatory compliance is such a critical issue in alternative data for finance that it is often the number one barrier for investment firms using web data in their decision-making processes. When it comes to regulatory compliance and alternative data, it's all about risk. Beyond some legal guidance, the industry as a whole has managed to reach a general consensus on the specific compliance issues associated with web scraping and how best to address them.
Are you interested in learning more and start making profits for your business? Consult our experts at Scrapingpros.
REQUEST FOR AN END TO END SCRAPERS PROJECT QUOTATION
No matter your data needs, we can help.
We identify, extract, clean, filter and deliver the data in the desired format ready for use in your database or in your upload queue. We adapt the data delivery to your integration requirements. We provide a reliable, secure, robust, and traceable response to your web-data need. We have the expertise to solve highly complex extraction tasks: OCRs, multiple-steps-extraction, proxy management, etc. We provide our 7x24 web-data storage and processing infrastructure, SLA 99.999%
We've helped over hundreds of companies with needs of scrapers. Ready to know how we can help you?
Follow Us