Today all supply chain-based companies use advanced technologies to monitor and track billions of inventory items found in hundreds of distribution centers, and then based on predictive analytics seek to anticipate shipments to predict when a customer will buy a product, and ship the product to a center near that customer.
Take advantage of web scraping services to know what your competition is doing, anticipate market trends and make more informed decisions
In this stage of digital transformation, supply chain management has become a very complex and multifaceted process. The sheer amount of information that needs to be collected and processed can be overwhelming. However, with the help of web scraping techniques and solutions, supply chain managers can streamline their processes and make more informed decisions.
Now, what is web scraping? It is an automatic method for getting large amounts of data from websites and exporting it in a structured format. In general, web data mining is used by individuals and companies who want to use publicly available web data to make smarter decisions.
In the case of the supply chain, the data can range from product information to stock levels and price data. Web scraping can also monitor competitor activity and gather market information.
It is important to be aware of the competitive and optimization advantages this solution can provide for our industry. Because web scraping can play a fundamental role in supply chain optimization.
Some of the main actions web scraping services are used for in the supply chain management
Gathering data about suppliers: Web scraping can help supply chain managers to collect information about potential suppliers, such as their product offerings, prices, delivery times, and customer reviews. This information can evaluate vendors and make better decisions about which vendor to hire or which vendor would be a better fit for the business.
Monitoring inventory levels: Using web scraping it is possible to monitor inventory levels on various channels such as e-commerce websites, marketplaces, and social media platforms. By monitoring inventory levels in real-time, supply chain managers can ensure they always have enough stock to meet demand, anticipating product consumption. This prevents possible stockouts, which could damage a company's reputation and cause lost sales.
Analysis and price comparison: Web Scraping can collect price data from competitors and markets, making a detailed comparison. By analyzing this data, supply chain managers can make informed pricing decisions, ensuring their prices are competitive without sacrificing profitability.
Tracking Shipping Times: Web scraping techniques allow supply chain managers to track shipping and delivery times across various carriers and markets. This logistics information optimizes shipping and delivery processes, ensuring that products are delivered "just in time" and that customers are always satisfied. This compliance variable is critical to the service.
Customer Behavior Monitoring: Web scraping monitor customer feedback and reviews across various channels such as social media platforms, blogs, and opinion forums. This information can be used to identify trends and patterns in customer feedback, allowing supply chain managers to make informed decisions about product development and customer service.
Competitive intelligence: Competitive intelligence consists of collecting detailed information about competitors and their products, prices, and promotions, among other types of data. With the Scraping Pros service, there will be a before and after in the way you operate your supply chain. Not only will you have, through web scraping, information on your direct competitors and the market, but you will be able to make well-informed decisions and put aside intuitions or assumptions that might not be efficient for your business.
The main benefits that Scraping Pros' web scraping services will provide to your supply chain are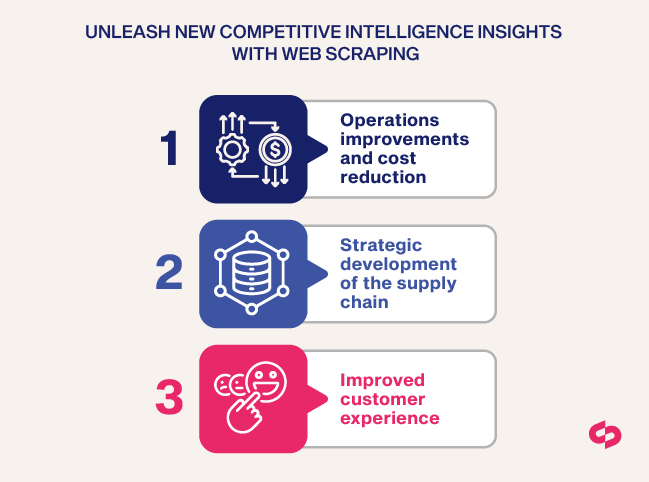 Operations improvements and cost reduction: Logistics information, both from suppliers, products, and inventories, will help you not waste resources and redirect all your efforts into a more efficient operation, resulting in greater profitability.
Strategic development of the supply chain: The processing of data extracted from the web is key to making it easier for your company to develop strategies, share data and design predictive models. This information is worth gold and has proven to be crucial in the design and development of new products and innovations. And every major company has benefited, in one way or another, from exploiting this data.
Improved customer experience: When you really know what your customers think of your product or service and what your competition's customers think, this knowledge can dramatically improve customer satisfaction. You can identify the preferences or pain points of your customers, valuable data that can really be difficult to obtain directly from the consumer. For example, your company can analyze social network, mobile, and browsing data to get an idea of ​​how your customers use your products and what they really expect from your service or what they would be interested in obtaining in the near future.
Do you need more information to transform your supply chain management? Consult our experts in web scraping today!
Get in touch with us free of charge!
Let us help you enhance the power of online data.
Looking to harness the power of data to make informed business decisions and thrive in modern competitive markets?
Fill out the form below to get in touch with our team of experts, and let us help you extract valuable data insights to drive your business forward.
We've helped over hundreds of companies with needs of scrapers. Ready to know how we can help you?
Follow Us
REQUEST FOR AN END TO END SCRAPERS PROJECT QUOTATION
No matter your data needs, we can help.
We identify, extract, clean, filter and deliver the data in the desired format ready for use in your database or in your upload queue. We adapt the data delivery to your integration requirements. We provide a reliable, secure, robust, and traceable response to your web-data need. We have the expertise to solve highly complex extraction tasks: OCRs, multiple-steps-extraction, proxy management, etc. We provide our 7x24 web-data storage and processing infrastructure, SLA 99.999%
We've helped over hundreds of companies with needs of scrapers. Ready to know how we can help you?
Follow Us